Q: After checking off a task or activity for a contact, lets say a follow up call, does Realvolve recognize this as a recent call or contact? Or do I still need to go into the contact and input the actual last contact date?
A: (2-21-16) For now you have to enter the last call date in the last call date field. Here's the fix: add this simple setting to your "check-in" activity:



By adding these merge fields in the checklist box you can enter the call date right in the dashboard - like this: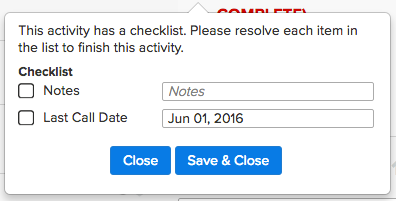 Now RV knows the last time you called.